Short History of Church Farm & Ardeley
We know the landscape in this area was formed by the "glacial beaches" of the retreating glaciers around 10,000 years ago. This accounts for pebbles in the fields and the mixture of different soil types, sometimes all in one field.
The farm lies to the south of the village of Ardeley. The village dates back many thousands of years. An object found 10 years ago was dated to 6000BC – it was a Mesolithic ceremonial mace head. The Church is nearly 1000 years old. All who come remark what a wonderful place it is.
In 1820 William Cobbett sat upon the hill at Ardeley looking down to Cromer and over to Luffenhall and wrote of the fair farming and countryside here. Little has changed since then. Ardeley Bury, all the land and farms around it and three other villages were given by the first King of England – Athelstan – in around 900AD to the Canons of St Pauls Cathedral in London. They owned it for the next 1000 years – the wealth from here went to maintenance of the Canons and the Cathedral.
The Jolly Waggoner was once known as the "New Bell Inn" as it was next to another pub "The Old Bell". In front of the pub was a blacksmith's shed – since converted – and the parish tithe barn – now a house and a pond. For hundreds of years this was a busy meeting place for people from miles around.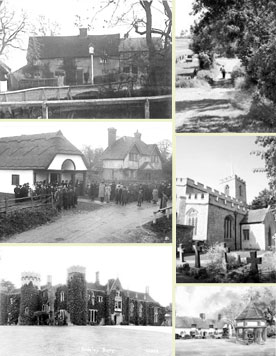 The farm was part of Ardeley Bury Estate up until about 100 years ago. It was a dairy farm and owned by a milkman up to 1958 when William and Roger Waygood moved to Church Farm from Six Mile Bottom in Suffolk. William Edward Waygood died in 1998, and was the last member of the family to plough with horses.
Church Farm was an arable, pig and poultry farm from the 1960's through to 1988 when the land and farm was set aside. In 1995 two ponds were constructed attracting wildfowl. Three woods were planted in 1999 and two more in 2003.
Then a farming renaissance started in 2008 with the farm developing fast over the past few years. Pay us a visit to see how much we have achieved in a few short years.
---------------
SUNDAY, 3 MARCH 2013
A TRIBUTE TO ROGER WAYGOOD, MY FATHER, A STRONG MAN. 
Roger's Early Life, and his Farming Business Life.
Not many people knew his motto, his school motto "Viriliter Agite Estote Fortes" it means "Quit Ye Like Men, Be Strong". He never preached or hardly ever spoke of it. But he wanted to pass this epitaph onto his children and grandchildren at this time.
Evidently it was a motto he lived by, from a young age to this last difficult year Roger was a strong, stoic man but in a warm, wise and gentle way.
Roger was interested in History and latterly traced his family tree back 500 years and wrote down an interesting personal history of his early memories which we will type up in time and share.
Roger was an only son, born on 23rd July 1943 at Carlton Grange Farm, rented from the Six Mile Bottom Estate Nr Newmarket in Suffolk . He was born when his parents were much older as they had married only in their late 30's and when he came he was no doubt an amazing blessing to William Waygood and Katie, his mother.
He was surrounded by extended family, his grandparents, uncles, aunts and cousins who lived on the estate and worked together in partnership on the farm enterprises or ran other tenant farms.
Roger's grandfather Fred and grandmother Louisa headed the family and were forged through the steel of tough experiences. They were self made people. 
Fred Waygood had left a large farming family in Somerset in about 1890.  Fred left home at 15, moving east to South Mymms and then Suffolk where he settled first as stable lad. He must of had a way with horses and men as he became head lad of a large stable and stud for Lord Derby.  He married Louisa Lock late and after she had been through terribly hard circumstances. By the first world war they managed to rent their first farm, which they ran and expanded with the help of their 7 children.
Fred Waygood and sons Fred, Perse, William, Albert, Charlie and daughters Flo and Millie did well renting a series of small farms in the area and ended up at Carlton Grange a 1200 acre farm. The family partners ran enterprises that included wheat, malting barley, mangels, kale, sugar beet, clover, and hay. Initially all the arable work done by horse power. They had Red Poll Cattle, produced beef, milk, butter and more which they sold through a daily round they did by horse and cart direct to houses in Newmarket. Roger's, uncle Perse made clover honey, aunts raised table cockerells and hens for eggs. Fred bred, raced and sold successful horses with the Carlton prefix. 
Rogers father William left school at 14 to join his father farming in 1917. He looked after the Arable, he captained the farm cricket team and did not marry till late, in 1938. He was a farmer on a motorbike
William and Roger's mother Katie were very happy together when they finally married. William waited 8 years whilst Katie looked after her father, a patriarch of the Briers Farming and Hay Merchant family based at Cross Oaks Farm on the Aldenham Estate near Shenley.
They were busy and productive times and by the time of Roger's birth the country was on rationing and facing starvation without the huge expansion of home production. 
In the 1920's and 30's there had been 120 people working on the farm enterprises at Carlton Grange, there were less after the war when tractors and combines were introduced. Roger went to Primary School where he met a lifelong friend Richard Nunn, whose parents, family and sons were and are great farming and enterprising family.
William and Katie both adored Roger. He was the youngest around of the many cousins, who he spent much time with and learnt much from as they played, worked and grew up in an extended family. The farm was their life and playground. Roger learnt to drive the tractor before a bike and was combine driver at 14. 
Roger passed his 11 plus and went to Culford School near Bury St Edmunds. He settled there well and in his memories notes success at cricket, captaining the rugby team and doing well academically. 
Then came an accident and a back injury aged 14 1/2. He was admitted to an Adult Orthopaedic ward and put in a plaster cast from which he could not move for 8 months.
He missed most of an academic year, but gained an education for life. Whilst there he saw lots of people from all walks of life, many in a bad way. 
He notes a story of a once famous jockey in there with him, who despite no legs, one hand and gangrene, kept others, better off than himself in high spirits through his laughter and joking. After 8 months the cast was taken off, his muscles had atrophied, he had grown six inches but could not walk. The experiences on the ward would serve him for life, his parents visited every day from the farm, he had adult conversation 12 hours a day for 8 months. He saw people in pain and with injuries that were worse off  than him. Evidently he never felt sorry for himself and bore this well as a young boy.
He did go back to school for a few months before the exams when he was 15, but never played rugby again and of course gained few O'levels having missed half the lessons at least. 
It was a time of growing up fast.
Then Fred, his grandfather died. At that time if the main tenant died the estate could give notice to leave the land and the houses. They were served notice to quit the farm and home.
Latterly it was Fred Waygood and Son William, Rogers father who were remained in partnership, the brothers and sisters had married and moved to and taken up their own farms in suffolk, cambridgeshire, hertfordshire and somerset.
Katie, William and their son Roger, now 16, were determined to never be in such an insecure position again. They sold all the farm stock at a sale and with this together with a loan from Lloyds in Hitchin bought Church Farm in 1957 and moved in in March 1958.
With William that much older, in his 60's, Roger had to grow up and take responsibility at a young age. 
At 16 he was in a business partnership with his father and mother. At Church Farm they started with wheat, barley, hay and a few pigs. He sought help and advice and settled into the community of local farmers. They soon left the running of the farm to their son.
He remembers asking for advice on starting Church Farm and set out to learn how to do every job himself. Roger was talented, not just good with his hands, he could plumb, lay bricks, weld, and make anything he needed from wood, make and do, fix things. He educated and learnt through evening courses, neighbouring farmers and farm managers, through the young farmers club, his father and numerous farming relatives - the number of whom tripled when he married Wendy.
He showed pigs at the Royal Show and won awards particularly for ploughing. Roger was great with stock, loved his pigs. He had berkshire, large white, welsh and landrace pigs over the years and expanded from breeding pigs to finishing pigs as well as making and selling hay for newmarket and growing cereals. Roger built a profitable farming business at Church farm over the next 25 years that provided for his growing family and parents. 
This was not alone, it was together with Wendy, with the help and mutual cooperation local and family farmers and local people. It felt to me a tremendously strong community growing up.
The 1960's and 70's were successful times for farming. Coming to Church Farm was starting over again. He farmed here with the help of one or two people, and extra help from family at Harvest times. 
He had good people work for him. Two in particular were instrumental in the day to day life and the growth of the farm. There was Dennis who worked alongside Roger for many years, in all weathers ploughing, mowing, reaping, sowing and George Denham, another man with big hands who was a great stockman.
Roger was a gentleman, in that he was a calm and gentle man, but he was not a "gentleman farmer". He was hands on doing and there was no job he ever asked anyone to do he had not done himself. He could and did do every job on the farm, and in the office. 
As I grew up, I spent a dozen years working alongside and accompanying my father on the farm from earliest memories every chance I got. It was far more fun than any holiday. He made it fun, by making it rewarding in terms of self satisfaction to contribute by doing small things - sweeping the yard, collecting eggs, watering 1/2 acre of turnips....whatever it was, he challenged you to do your best at it, and showed how.
It was always working together, I never felt I was working for him, even when tiny or latterly him for me, we did and always had the same aims. He never told me what to do after I was about 13, he would ask, and somehow this made all the difference.
He did repeat some things a lot over the years, and I hear him talk everyday still, sayings included
"Patience is a virtue"
"More haste less speed"
"All work and no play makes jack a dull boy"
"If you are going to do a job you may as well do it properly"
"Always try to do your best"
"It takes all sorts to make a world"
"Where there is a will there is a way"
"Your word is your bond"
Over many years he taught me to see things, to observe every little detail of everything around the farm. 
He would ask can you see, did you see, what did you see, and through discussing these observations, and my own questions we discussed every yard of every hedge, field, ditch, the variation of soil in each field, its history, the birds, bees, wildlife. He taught me to be quiet and still and watch. He taught me to shoot, to be sporting, to identify the woodpigeon at dusk, the rabbit, the hare. We shared excitement of spotting Deer, the fox, visiting woodcock, pheasants and partridge with their chicks at harvest.
Riding round on the back of the drill, doing corn cart, driving a combine, shovelling manure, learning every aspect I could from him was natural, fun, exciting, challenging and interesting. How to move pigs, to talk to them. Respect them. Lessons learnt by doing, watching and not much talking. Working out dates, lists, things to do, how to improve, discussing opportunities. 
He passed on a love of farming in all its complex elements, he did not always say much, but always was wise, never ventured an ill-considered opinion or showed or wasted time on discussing with me any prejudice, regrets, hates or blame. 
He and other strong men with big strong hands in the family and farming friends were the people I was brought up around, the "agri- culture" and rural community and their self reliant spirit of independence stood out as more than just examples to me. Men like my Father, were proper hero's to me, nothing on telly ever compared.
As my grandfather sang "Those were the days my friend, we thought they'd never end". But they did.
The farming business climate changed, prices fell, inputs soared and in the mid to late 80's an agricultural recession started that has persisted. There was losing money, the catastrophe of animal disease, a dreadful fire and the massive roof of the mill shed and long shed ripped off by gales. 
There were years of farming heartbreak :- selling all the animals and then setting aside the arable land.  
Then a new challenge to create houses from the tremendous, but falling down, medieval barns. 
Roger and Wendy moved to a caravan on the farm and the farmhouse subsidence underpinned, whilst Roger got hands on building, first taking everything down brick by brick with the help of Mark & Dennis Young and bringing in and working with  tremendous  craftsmen , things got tough and the bank started asking questions. 
Another wave then came with a crash in house prices and a soaring to 15% in borrowing rates as the first barn was completed and sold to me in 1992. Throughout the mid to late 90's the project was completed with the tithe barn being thatched and in 1999 Roger and Wendy moved into the Barn to which you are all warmly invited back to today. 
Throughout his most difficult times, he encouraged me with my fledgling business which moved from bedroom to chicken house and gradually took over what remained of the farm buildings.
For 10 years Roger helped with the purchasing, sourcing and negotiating of machinery and equipment for MotivAction and more. Years when he helped design metalwork for Human Table Football, find chips for casino tables, silks for jockey girls, all sorts of props and toys for events and their support, provide catering, even once dressing up as a vicar for an event named "In search of mrs boothby smyths stolen chamberpot". He enjoyed working with many people at motivaction over the years.
In that time we cooperated on planting and maintaining 5 new woods and 2 new ponds, enabling a resurgence of wildlife and wildfowl.
His quiet encouragement and wise counsel were there if needed, he was never surprised or ridiculed anything i came up with or my numerous public failures. Neither did he ever think any achievement worthy of undue flattery, he just admired and encouraged effort. The fact that he has always been a very grounded person, helped me come back down to earth a few times. 
We were both amused a few weeks ago when he dream't that I had become "Tiger Tim" and introduced a couple of tigers to the farm. Apparently I assured him in the dream they were quite safe" interestingly he never dream't of stopping me.
 -- 
Over the past 5 years he has planted a Walnut Tree orchard, helped and advised on every element of re-establishing a farm here. Something he and I did not think would happen again. He loved having pigs again and looking after them, and passing on his knowledge. He spent hundreds of hours working with and passing on his knowledge to dozens of young, and some not so young farming and vet students on the farm here. He loved doing this.
The time we spent together over the past years on farming have been priceless.
Roger has left us his children and grandchildren a splendid example, great memories and wise sayings - he walks with me every day around the farm.
I asked him if he thought I could make a go of farming again at Church Farm in 2008. That he believed in the renaissance of the farm and supported it is there as a testament for all to see who have come and walked around. It is a lovely day, do please walk around Church Farm to see Roger's life's work and the wonderful barn he built after the service.
We will remember him by this and much more.