A visit to Church Farm is like no other - it's a working farm with a focus on reconnecting people with the land.

Download our Church Farm Education & Group Visits Brochure »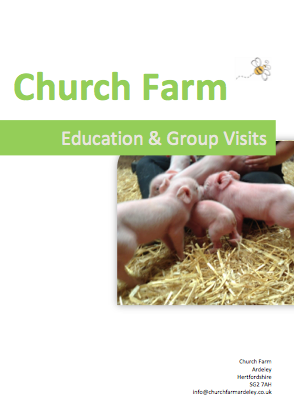 Booking Information 
Guided Farm Tour 
Join a member of the farm team for a relaxed guided walk and talk around the farm. You'll get the opportunity to meet our free-range and woodland-reared animals and see how our vegetables are grown.You'll also experience being a farmer when you feed the chickens and see where they lay their eggs. £30.00 guide plus £3.00 per child for a bag of animal feed.
Self guided Farm Tour 
Each person on the trip needs to buy a bag of animal food at a cost of only £3 per person. Your group can walk the farm at their own leisure and feed the animals.
Visits can be scheduled for any weekday (subject to availability) with the exception Bank Holidays. There is limited availability during weekends and school holidays.
Call our team to discuss the perfect trip for your class or club for 2014 - 01438 861 447.
The number of groups we are able to offer visits to is limited, please book soon to avoid disappointment.
Please download and read the Health and Safety Guidance before your visit. 

Stay the Night
Get back to basics, have a campfire in the woods and sleep under the stars. Children £7.95 per person per night. Adults £12.50 per person per night. Bring everything you need for your comfort and survival!
Field to Fork – Farm Café & Catering
Pre-order lunch packages - Remember all of the primary ingredients come from Church Farm!

Parking
Coach parking facilities available.
FREE "TALES OF CHURCH FARM" CHILDRENS BOOK - DOWNLOAD PDF HERE